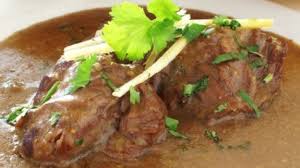 Lamb marinated in the comforting flavour of yogurt and cooked in mustard oil along with mustard seeds, almonds and castor sugar that adds a sweet undertone.
Ingredients:
4-5 drumsticks of lamb
1 1/2 tbsp yogurt
2 tsp turmeric powder
3 tsp castor sugar
2 tsp red chilli powder
2-3 tbsp mustard oil
1 onion, chopped
3 tsp ginger paste
3 tsp garlic paste
5-6 green chillies, chopped
2 tsp mustard seeds
5-6 almonds, chopped
Method:
Marinate the lamb with yoghurt, turmeric powder, castor sugar, salt, red chilli powder and some mustard oil.
Heat mustard oil in a pan, add onion, ginger paste, garlic paste and saute. Once the garlic turns brown, add the marinated lamb, green chillies and water. Allow it to simmer.
Boil mustard seeds in water and blend to a fine paste. Add the paste to the lamb and cook till done.
Garnish with chopped almonds and serve hot.
Credits: https://food.ndtv.com
0 Comments